Whether you have post-secondary education, vocational training, or are interested in exploring the various career paths available, the construction industry has multiple opportunities that are often overlooked or unknown.  
As one of the largest industries worldwide that offers a wide-ranging variety of opportunity for career growth, construction occupations provide opportunities for candidates with diverse skillsets who are looking for job stability, strong earning potential, and practical benefits.
While the list of options and opportunities is far reaching, most people have many misconceptions about working in the construction industry. Although there are many hands-on skilled labor jobs available, construction opportunities are not just limited to the field or hard labor.
So, what is it really like to work in the construction industry and what types of opportunities are available?  Respondents at Southland Industries and The Brandt Companies were asked questions about their role and how the construction industry offers a variety of opportunity.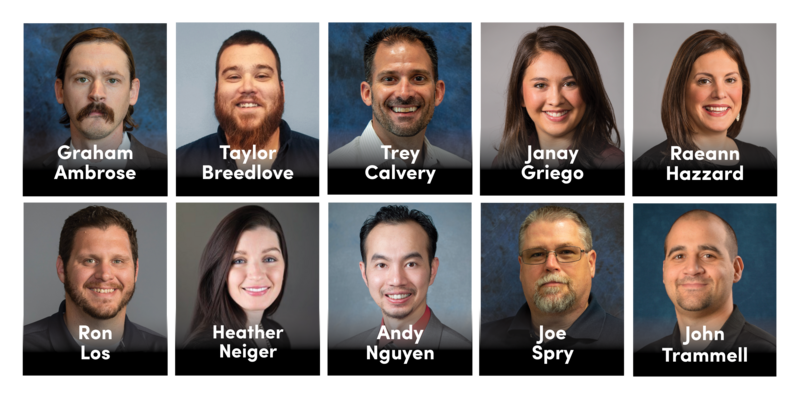 Respondents:
Andy Nguyen: Lead Division Accountant, Southland Industries
Heather Neiger: Senior Service Coordinator, Southland Industries
Janay Griego: Design Engineer II, Southland Industries 
Raeann Hazard: Senior Account Consultant, Southland Industries
Ron Los: Superintendent, Southland Industries
Graham Ambrose: Service Supervisor, The Brandt Companies
Joe Spry: Cx Supervisor, The Brandt Companies
John Trammell: Director of VDC Technologies, The Brandt Companies 
Taylor Breedlove: Service Field Supervisor, The Brandt Companies
Trey Calvery: Service Director, The Brandt Companies
What skills are necessary in your role?
Andy Nguyen: As the Lead Division Accountant, you have the standard technical skills: Excel and math, a little bit of compliance, legal, IT, licensing, audit…. it's good to be well-rounded in everything. I also touch a little AP, AR, payroll, project, and service work. But, the most important skills I learned were through experience...especially with the soft skills like working with people and working through and with the struggles and celebrations of life. 
Janay Griego: Continuous improvement, technical problem-solving skills, and communication skills are a few big ones that take on many forms in the work we perform and need daily. As an engineer working for design-build construction firm, it's imperative for me to keep an open mind and open ears for better and safer ways to construct and build. From diverse reaches of our company and industry, it's a daily goal to learn from other professionals and be able to communicate effectively to engineer, execute, and advance our processes for how we can better support field activities.
How would you describe your role to a third grader?
John Trammell: We are problem-solvers with a digital toolbox.  
Raeann Hazard: I work with companies to keep their heating and cooling working in big office buildings, hospitals, data centers, and other cool places. If their systems aren't working like they should, I work with a group of really smart people who help them figure out how to fix it, or I talk about how we can make it work better or about options to do things differently.
What has been the greatest success in your role? 
Janay Griego: Over the years when I've been asked what my favorite project or my greatest success is, it has continuously changed, which is a great thing. I think it shows how many opportunities for growth are out there. I've had the chance to work on projects of varying sizes, locations, and types so far in my career — each with their own complexities.
Graham Ambrose: Seeing someone I mentored as an apprentice grow into a fully capable journeyman and provide a better life for themselves.
How did you choose a career in the construction industry?  
Raeann Hazard: Growing up, a lot of my family worked in various trades within the industry. Construction is fast-paced and ever-evolving. It was enticing. 
Trey Calvery:I grew up in the business; my grandfather, father and uncle were in the HVAC/Plumbing business. Growing up, I was always tinkering with and fixing things. I've always enjoyed problem solving with my hands.
What are some misconceptions about careers in the construction industry you think people should know about?
Heather Neiger: Whenever I hear the word "construction," I've always pictured a guy in a vest with a hard hat and a sledge hammer. Since working with Southland, I've learned it's so much more. There are many different roles in this industry, and they don't involve a bright yellow vest. There are more types of trades out there and it's not easy work. It's not just hardware and a hammer.
Trey Calvery:Although our industry can typically be looked down upon, it's actually a very rewarding career full of personal development. I've been in the HVAC/Plumbing industry for 27-years, it has been a great adventure, full of challenges and has provided well for my family.
How has working in construction changed your perspective of the industry?
Taylor Breedlove: In most cases the men and women in the field are some of the most methodical, smart, and intuitive people I've ever come across. The science, math, and technical skills involved are astonishing.
Ron Los: When I was younger, I envisioned the construction industry as a bunch of guys just showing up to the jobsite because that's how our culture portrays it. Once I became part of the industry, I realized how vast it really is. Our industry is so diverse and includes so many people from all parts of the world it's really mind blowing.  
Graham Ambrose: Some of the smartest and most genuine people are in the trades. I've had the privilege to work with so many people over the years. I've learned more about life eating lunch on the sidewalk, than I ever did in a classroom.
What is the most rewarding part of your job?
Joe Spry: The feeling that my opinion matters.
Andy Nguyen: I get to grow myself beyond my regular duties. I work with so many fascinating people from all sorts of backgrounds and personalities.  My job truly provides me with the ability to enjoy my other passions.
What are ways the industry could inspire future leaders?
Graham Ambrose: Start by encouraging the younger generation to enter the trades. Tradespeople are starting to retire far quicker than people are starting apprenticeships. With the amount of work going on, not only will there be an abundance of manhours to work, but jobs will need supervision and management. The sky is the limit in this industry.
John Trammell: Creating an inspiring vision of the future that also gives future leaders purpose and something to look forward to, and something to work towards.
Heather Neiger: Skilled craftsmen and craftswomen are essential to the world's continued development. They are continuously redesigning and thinking out-of-the-box to conserve our planet and better our future. Doing good work for the planet doesn't just mean building wind and solar farms, it means making the existing world operate more efficiently, and more sustainably — both with new construction and retrofitting, and that's what we do here. That's inspiring to me.
What three words best describe working in the construction industry?
Ron Los: Exciting, Evolving, and Rewarding
Taylor Breedlove: Challenging, Rewarding, and Steady
The construction industry is overflowing with career opportunity. From learning a wide selection of skills to working in various locations, the industry is progressive, diverse, and rewarding. Looking to build your career? Find detailed information about entry requirements, career opportunities, or internships at Southland Careers.  
Brittani Sievers
Content Management Specialist
As Content Management Specialist for Southland Industries, Brittani Sievers manages the content lifecycle. From ideation, creation, and editing through distribution, measurement and maintenance, and creating content strategy, Brittani develops new and innovative ideas for Southland's digital channels.