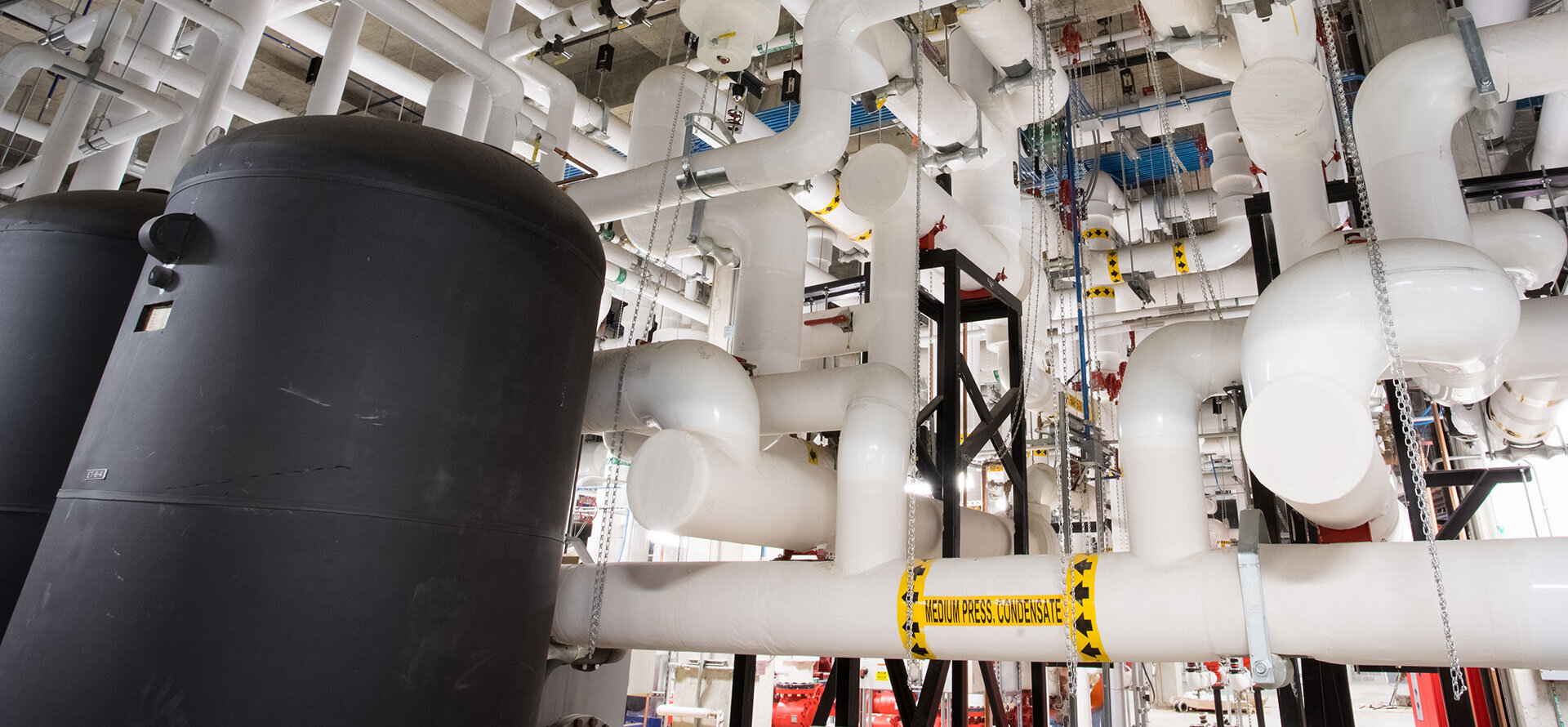 Energy Infrastructure
Ensuring
cost-effective, safe & reliable energy

delivery
We help you create, renew, and sustain modern infrastructure that delivers thermal and electrical energy to your facilities throughout their lifetimes.
Your energy infrastructure drives your energy delivery. By determining and assessing distribution systems, evaluating your current infrastructure, and exploring the right financial option, we help you get the energy you need through cost-effective, safe, and reliable solutions. 
Distribution
Whether it's electricity from the grid, onsite sources such as solar arrays, or cooling or heating energy in the form of water or steam, distribution's importance is often underestimated. We assess the ability of your distribution systems to accommodate your current and planned operations, determining upgrades, replacements, costs, and timelines. This ensures that distribution is renewed in a planned and methodical way, avoiding the cost and disruption of emergency repair of a sudden failure.
Information
One of the foundations of modern energy infrastructure is an energy IT platform. While all facilities have meters, we can provide integrated energy IT systems that continuously monitor energy use and diagnose potential problems early in a process of continuous commissioning. Additionally, we can create a sophisticated microgrid-based load management strategy that allows your entire facility to respond in real-time to changes in the cost of delivered grid energy, minimizing your energy cost.
Reliability
Facilities are only as resilient as their underlying infrastructure. The critical loads within facilities change over time, and often become mismatched against their supporting emergency energy supply such as generators or uninterruptible power supply (UPS) systems. We ensure that critical loads are properly identified and always supported, leveraging novel solutions such as battery or thermal energy storage systems to improve reliability and lower cost.
Financial
Our vast range of funding and financing options, including asset monetization, public-private partnership (P3), energy-as-a-service (EaaS), energy savings performance contracts (ESPCs), or other means, allow us to address your unique financial situation. Additionally, we are experts in identifying and leveraging funding and financing sources including incentives, grants, tax credits, and low-interest loans. In many cases, we can pair infrastructure renewal with efficiency and onsite energy generation to create a financial structure that puts money in your pocket from day one.
Let's build something amazing together
We work to understand your project goals, partnering every step of the way. Through full lifecycle expertise, our integrated solutions deliver maximum value for your project.