Building owners are transforming the construction industry with the increased adoption of a Lean Integrated Project Delivery (LIPD) approach. This methodology breaks down the silos that are created during traditional construction, resulting in a highly collaborative and transparent approach that delivers increased value to the owner. I recently participated in an Engineering-News Record webinar on "Lean IPD Strategies from the Subcontractor Perspective," where I discussed benefits of using LIPD on projects.
The right team + the right behaviors + the right contract = positive project outcomes.
These benefits all start with team selection. Players should be chosen based on behaviors – not cost – asking about their willingness to learn and ability to innovate during the interview process. It's also important that the people who will work on the project participate in the selection. Teams should choose people, not logos. And while company alignment is necessary, personal alignment is paramount. Team chemistry matters. The foundation for a successful integrated project delivery team is built through trust and respect. The goal is to create a true team comprised of partners, all of whom view and treat one another as equals. This allows us to embrace a truly shared value proposition.
The foundation for a successful integrated project delivery team is built through trust and respect.
Timing matters, too. Trade partners should be selected very early in the project lifecycle. As a project progresses, the team's ability to affect project outcomes declines and the cost of making changes increases. Early involvement means the partners can identify major opportunities and risks and work tirelessly during the Validation Phase to capture the former and mitigate the latter. It also allows the team to analyze opportunities for prefabrication and modular construction, increasing workflow predictability, safety and quality while reducing labor costs.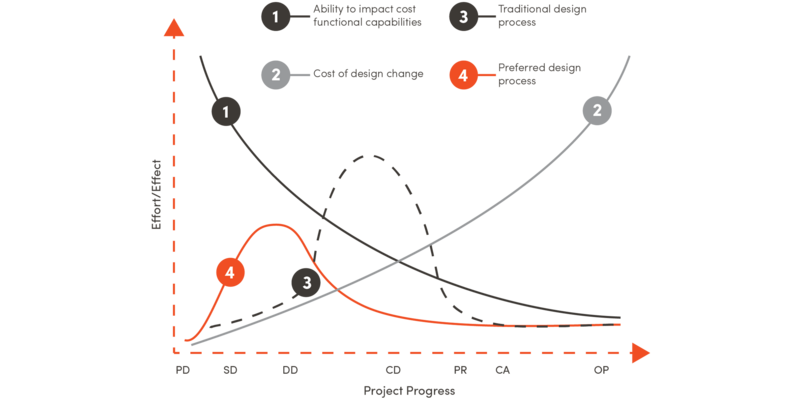 The MacLeamy Curve (The American Institute of Architects, 2007)
Once the team is selected, the focus should turn to creating the right behaviors and environment. Conditions of Satisfaction, determined by all parties involved, are established so everyone knows how the team will define success moving forward. In order to ensure the team is moving in the right direction, we believe in continuous onboarding. This ensures that every single person involved in the project:
Knows the Conditions of Satisfaction
Understands the expected behaviors when interacting with the team
Additionally, frequent team health checks, where we ask all members of the team for feedback, allow us to monitor our progress and ensure we are behaving correctly. While discussing behaviors, it's important to talk about contract type. While many different types can be used, we believe a multi-party Integrated Form of Agreement (IFOA) is the best option. This contract, where all signatory parties participate in a shared risk / shared savings pool, creates an environment where we all win or lose together. This "skin in the game" approach enables the necessary levels of collaboration and encourages the right types of behaviors. We make decisions based on what adds value to the project, not what's best for ourselves.
Once the right environment is created, where the right team, behaviors and contract are in place, the project team is on a path where the project can be delivered with maximum value to the owner. We leverage Target Value Design, using continuous, conceptual estimating to ensure that cost is an input to design. This flips the traditional process on its head, allowing designers to design to a budget. It also allows the owner to make informed decisions, ensuring they get the most out of their money.
We make decisions based on what adds value to the project, not what's best for ourselves.
This approach has created success on many of our recent projects. In one example, Southland's sprinkler fitters collaborated with the project's steel erector to install fire protection piping in panelized roof joists at the ground level. The erector then lifted our system into place with the roof system. The results were increased safety (60 percent less time spent on lifts) and triple the anticipated labor productivity with zero sacrifice in quality. Another example was taking a Lean approach on a project's piping systems. We worked together with the process engineer and structural engineer to create a right-sized, two-tiered pipe rack system that was more efficient than what the owner had previously installed. Capturing this opportunity created approximately $500,000 in project savings.
These are just two examples of what can be accomplished when an owner adopts a LIPD approach. The highly collaborative and transparent nature of LIPD teams, rooted in trust and respect, drives innovation. When team members view each other as partners, collaborate, and make decisions based on what's best for the project, we can maximize the value we provide for building owners and create positive project outcomes.
To hear more from Southland Industries' Andrew Rhodes and trade partners California Drywall and Rosendin, you can access the webinar here.
Andrew Rhodes
Business Development Lead
As a Business Development Lead in Southland's Mid-Atlantic Division, Andrew Rhodes focuses on collaborative project teams using Lean Integrated Project Delivery. He has worked as a Design Engineer, Project Manager, and Lean facilitator throughout this 16 year career.